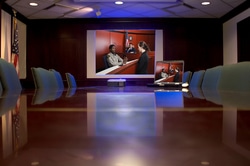 Video depositions and Videoconferencing can prove beneficial to making a case in many different ways. Legal video has been around for over 30 years and has improved into a less intrusive, higher quality tool for litigators. Below are a few reasons to considering using video in your next case:
Making Your Case: By creating a video record of a deponent, you are capturing their thoughts, actions and ideas in a permanent and resourceful way. Cases may not go to trial for years so it is crucial to preserve a deponent's memory through use of a video. Video deps can also be used to aid in settlements. By showing a clip of a strong expert witness to your opposing counsel that you intend to show in court, you may have an advantage for a settlement.
Impeaching Witnesses: The term "I never said that" becomes extinct on the witness stand when video evidence can prove otherwise.
Cost: Save money by recording a video of an expert witnesses to be shown in court or videoconferencing an expert to be questioned in real time. Same goes for deposing witnesses that may be located in another state or even another country. By using videoconferencing software, you are guaranteed a reliable and secure connection to almost anywhere in the world.
Enhance the Official Record: While video depositions do not replace the court reporter's transcribed testimony, they enhance it. You can even have the video and text transcripts synchronized which has dozens of advantages of its own. Meanwhile, with a video deposition, participants can pick up on non-verbal cues and tone of voice that they wouldn't necessarily perceive by reading the transcript.
Demonstrative Evidence: Jurors retain 80% of what they see rather than 20% of what they hear. Legal video can be used to create compelling visual evidence, such as "A Day in the life" videos. Video presentations can be powerful tools used to evoke emotions and empathy within the jurors.