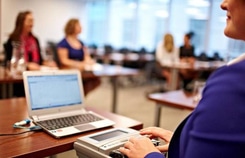 Being a court reporter is an in demand job! What does a court reporter do exactly? Well, a court reporter essentially creates transcriptions at trials, depositions, and other legal proceedings of that nature. The transcripts that they create are taken exactly from what is said in the courtroom. Court reporters even work creating captioning for television as well as translation in real time for those who struggle with hearing at official events or settings, such as public events or meetings.
Certified Court reporters mostly work for governments at the state or local level. They primarily work in courts and legal proceedings, but some court reporters are able to work from home or the office, depending on the type of work they are doing (broadcast captioning, for instance, allows reporters to do this on occasion). Moreover, the skills learned to become a court reporter are valuable and can be used in freelance work transcribing. You can become a court reporter by completing a certificate program at a college or institute and becoming licensed/certified as required by the laws of your state.
The good news is that court reporters are gainfully employed, and that employment is projected not only to stay steady but to rise. This is welcome news if you're planning on going into court reporting! The average annual wage for individuals in this field was approximately $48,160 in May 2012. Court reporter jobs are projected to increase and grow 10% in the next ten years. It is also likely that net annual pay for court reporting will also increase.
Working as a real-time court reporter in the field of justice can be an interesting job. Many court reporters find themselves engaged as well as excited to go to work every day. This is a good time to enter the field if you are interested in being a court reporter as well, since the profession is likely to undergo a series of retirements in the next few years as the current job holders grow older, according to the National Court Reporters Association. In fact, in the next few years, roughly five thousand court reporter jobs will be up for grabs in the United States. Hardly a field in which there is overcrowding!
The advantage of going into the court reporting field as opposed to other occupations? Court reporting only requires aspiring entrants to undergo approximately two years of schooling instead of four. The two years are often less expensive than attending a four year college as well. If you have rapid typing skills, the desire to go into a field, and an attention for detail, court reporting may be for you. With employment in the field steady and more open positions in the field being projected, it's never been a better time to go into court reporting.