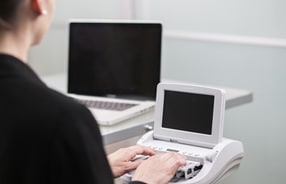 If you're scheduling a deposition, you've probably already started your search for a well-qualified court reporting agency. Sure, you may think you've got it handled, but it doesn't hurt to make sure you've got all the bases covered. Here are some things to look for that at the end of the day may help you choose the best court reporting agency for your needs:
Look At Customer Reviews
Customer reviews of a court reporting agency are a great source of information. People who have used this service leave their honest opinions about their experience, the good and the bad. You can get a general idea about how pleased individuals were with the service from their reviews and testimonials.
Do They Offer Quality Service, Look Professional and are They Experienced
You want to look for a court reporting agency that is going to have an outstanding record of providing service, which generally comes from their level of experience and how long they've been in business. Make sure their site is professional and functional. Inquire to make sure the reporter they are providing you has been properly vetted by them to meet the specifics of the case for which they are being sought.
Make A List of Potential Agencies You'd Like To Use
To get to the right court reporting agency for you, you're going to need to look at the choices available. Make a list of agencies that you would like to work with. From there, you can whittle it down based on various criteria. Write down the agencies you like, and then leave space to take down notes next to them so you can eliminate agencies one by one.
Make Sure They're Available For You, Sometimes on a Moment's Notice
If you need an agency that can provide multiple conference locations or the ability to have the reporter travel with the case, make sure that an agency offers these features before agreeing to work together. As perfect as we all try to be, there are those times when there is a room full of attorneys and witnesses but no reporter because one was never scheduled. Your agency of choice should be able to come through for you during those times and save your day.
See If You'll Be Working With Professional People or Voicemail

Would you rather work with people or a voicemail and the potential to be called back? Ideally, you're working with a professional company who is service oriented and has strong customer support, and they will make your inquiries a priority. Calling agencies to find out how accessible they are can be a good idea. If your call goes to voicemail and you're waiting for a call back, you can decide for yourself how interested you are and they are.
Make Sure That Services are Included

A good court reporting firm will provide the services you need for a deposition. This can be the arrangement of the conference rooms, providing videography, providing remote video conferencing, scheduling court reporters, providing video or audio equipment, and more. Make sure they provide these services before you get on board!
Look For Professional Reporters and Certification
A professional court reporter is early, on time (at least 20 minutes before start time), dresses well, and is reliable. They can do their job well and invest a lot of time and energy into making sure they do the job right for you, the client. They must be able to produce an accurate transcript, real time feed and/or un-edited transcript (a/k/a rough draft). This is the type of reporter you want. Some states require court reporter certification. New Jersey is one of them. For states requiring certification, the reporters must be credentialed accordingly.
Timely Transcripts
Last, but certainly not least, it is important to keep in mind your transcript! Choose an agency that's going to get you your transcript when you need it (or even better, before). A company that waits until the last minute and is unable to meet your deadlines is not the company for you.
That's it! Now you have everything you need to choose a certified court reporting agency right for you. We hope your choice will be Guy J. Renzi & Associates, a leading service provider in the Mid-Atlantic region with over 45 years of experience and two generations of leadership. Do the research and everything will work out fine. Best of luck!