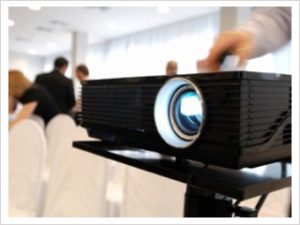 When it comes to a courtroom trial presentation in a large venue, are you prepared? A trial presentation involves a lot. Assembling equipment and getting your tech right is important when it comes to having a good presentation. In fact, trials today are not that different from those in the past.

With plenty of tech advances that have occurred over the years, you might be surprised to find out that 4:3 standard format video is still used. Presenter providers may also be able to accommodate 16:9 wide-screen HDMI systems, often found in courtrooms that have updated equipment. However, no matter how sophisticated the equipment is in some courtrooms, courts still maintain the 4:3 standard VGA connection to make sure that everyone can use the equipment. Read on to find out our top tips for using tech and courtroom equipment in large venues so you can set yourself up for success.

At the end of the day, there isn't a huge need for high-tech equipment that goes above and beyond. It's nice to have the option for a little extra video width, but it isn't a requirement. Even if you needed more width for a video, what would that be for? A basic video that covers the deposition already is centered and has everything in the frame, so you don't really need much more than that– it's overkill and not a requirement.

Standard equipment is a courtroom must, and any certified court reporter can tell you that. Here are some examples of some equipment you might need, good options, and what these pieces of equipment do.

Projector
A projector that uses six thousand lumens is pretty standard these days. This amount will allow for a clear image and you can always dim them if you need to. Check out the Eiki LC-XL200A if you're looking for a reliable model.

Screen
Check out the Da-Lite 100 Insta-Theater for a screen. The reason why this is such a good choice is that it is really easy to install. A quick installation when you are in the courtroom can be super valuable and avoids awkwardness when you're taking forever to set up or struggling. If you want a screen that is a wide-screen that doesn't require a tripod, use the Floor Model C and a separate floor stand base.

Audio
High-quality audio is key. A good amplified speaker set can give you clear sound, which is essential. Check out the portable PA set that is the Samson Expedition XP150 and see what good audio can do.

Tech Table
You probably will need a place to put all of your tech equipment on as well. A tech table will help you hold all of your gear and not crumble under the fold. There are plenty of tables out there to select from, so choose something that you can move without issue and can hold onto everything without folding or buckling. Check out the light models in the medium price range and you'll probably find something you like. You don't have to go brand name to get a good table at all.