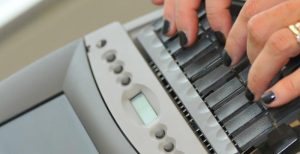 Are you making the right call when it comes to the agencies that will be doing your court depositions? If you currently need or will need depositions in the future, you must find an experienced court reporting agency if you want to see the best possible results.
Considering how important depositions can be to cases, you've got to make sure that yours are in the hands of a reliable agency. Even if you need a deposition done soon, it's best to put some time into making sure that you're choosing the right one. If you're interested or find yourself in this position, then scroll down and find out more about this topic!
When it comes to depositions, an agency is going to give you far better results than you can get from a machine. However, that does not mean that all court reporting agencies are created equal. As some time shopping around may show you, not all agencies are on the same par. However, which agencies are going to do the better job can be difficult to figure out based on their websites alone.
Online, every agency is going to have put some money into their site and marketing. The photos are going to look great and they are going to appear flawlessly reliable. That's great, but can they get the job done? You're going to have to look beyond the surface or what you first see to find out.
Tips for Selecting an Agency
See what other people are saying about them.
Of course an agency is going to promote themselves in a positive light. They're going to post up rave reviews and quotes on their own site of good experiences, so you can't exactly trust them to be impartial. To find out what a company is really like and what the quality of their services truly are, you're going to have to see what the reviews are of an agency from someone who used them. Go to online review sites and do a full search to get a comprehensive idea of what people's experiences were.
Consider the life of the business.
How long an agency has been operating may be more reliable than a review. If you see that a business has been operating for five years or a decade or more, it may be a decent indicator of their competence in the field. They must be doing something right to stay in operation for that long, so take that into account.
Get a recommendation or a referral from a friend in the field.
If you know someone that works in the same field as has used deposition agencies before, ask them for a referral or a recommendation. They'll also likely be able to give you a rundown of which to pursue and which you might want to avoid as well.
Give a test call.
While picking up the phone may not be a guaranteed assurance of great work, it's certainly a better indicator than a business where the phone rings or people sound hurried.
Make sure they offer services you are going to require and are certified.
While some companies do offer the option to travel, not all do. This can be a crucial detail when hiring agencies to do depositions for you. Make sure agencies can meet your needs, whether they are traveling, scheduling reporters, or providing the necessary equipment. The ideal agency will also be certified!