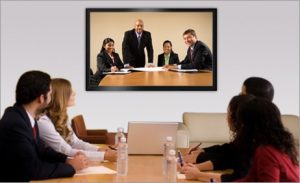 When it comes to web or video conferencing, which is better? Attorneys have the option when it comes to their depositions to make it easier, efficient, and more accessible for everyone that is involved. That's the professional way to do it, and that's where conferencing comes in.
These days, your best bet to have a conference where not everyone can be physically present is to either web conference or video conference. These two options are both good, but which is better?
When it comes to conferencing, it's usually the most efficient way to take depositions, even when in remote locations. Even if the witness is at the same address as the court reporter, the attorneys may not be present. However, the witness and the attorney can both be connected to a computer or table software that lets them see and hear the other.
The software that allows for video streaming of each party allows the attorney to ask deposition questions. The witness can then in turn answer, just as if both were in the same room. What legal video conferencing allows parties to do is have a deposition even if the parties are in separate rooms from each other. This does require a room with specialized equipment, a large screen, cameras, speakers, microphones, and a hard-wired connection.
Technology has improved to the point where computers, smart phones, and tablets can remote stream with good quality. However, videoconferencing offers unique benefits in that the quality of the video and audio is often unmatched. It lets a deposition go on when both parties are not in the same room, but it also requires a room with the equipment to do so.
While videoconferencing used to be the only traditional option for depositions when you had a remote party, technology is now challenging what used to be a monopoly in the field. Web conferencing may save you lots of cost as well as allow you to conduct a deposition remotely using your laptop, mobile device, or tablet. It's much more economical and is an attractive option, particularly if a room-based option like video conferencing seems too expensive.
At the end of the day, it's up to you which option you choose. Web conferencing has advanced to the point where it is nearly as convenient as video is and does not require any specially dedicated equipment. Since it works using nearly any device, it's also a practical choice. However, no one can argue that if you choose to do video for your deposition that the conferencing will provide unrivaled high-quality video and audio.
What's the big difference? Video uses special equipment, while web conferencing can be done using a simple computer. Knowing you have a good connection to the Internet is key for this to work for web conferencing, however, and not all computer webcams or tablet cams are going to necessarily deliver the quality you want. So if you do go the route of web conferencing, make sure your technology quality and connection are high.
You may end up choosing web or video off of your preferences. Maybe you don't have time or the budget to go video, or simply desire the convenience of web conferencing. Think about which works best for you and then go for it!