When it comes to being a great court recorder, how can you tell who is on top of their game? While skill in the field is one part of doing well, you may be surprised to find out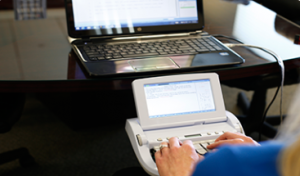 that it isn't everything.
Legal teams often need to hire their own court reporter. Sometimes it is not guaranteed that the courtroom you'll be in will end up providing you with one. In other cases, teams may require a qualified court recorder while not in the courtroom for purposes of interviewing witnesses, gathering testimony, or recorded conversations for the purposes of a case.
Naturally, you want to secure a recorder that knows how to do their job. How can you be certain that you are going to be hiring a recorder who is adept at their job and responsible enough to do their job and deliver the transcript according to the schedule?
Some people have a natural skill for this job while others may not be the right fit for you to end up hiring. You may want to start your hiring process by considering a variety of candidates. This way you will have plenty of choice and be better suited to hire the right person for the job.
Begin by looking over their credentials. See what licenses or qualifications they have and whether they are certified. Consider the amount of time that they have been employed in this profession as well. You may be fine with someone just starting out or you may want an individual that is qualified because of their years of experience of doing the job.
The longer that they have been in the profession, the better your experience will likely be. A qualified recorder that has worked for a long time in the business has been able to find repeated work for a reason! Another benefit is that they likely will have worked on similar cases and be familiar with what you need from them.
Regardless, a recorder that is certified and has met the requirements of your state will display qualities that show they are capable of doing the job. When interviewing and researching prospective recorders, you should check for the following things.

A Clear Record
When it comes to recording, a court recorder needs to have a history of good experiences. Ask them about past experiences, their training, and get copies of public record recordings to see their work. Some companies may even have background checks that make sure clients are getting a qualified recorder.

They Live in the Area
Local recorders will not only be familiar with judges and courthouses, they'll also know state and local laws, making the entire process easier.

They Can Multitask
When it comes to hiring a recorder, their ability to multitask and do it well is important! This acquired skill is an important one to have for recorders, as they constantly have to listen and then record what they have heard at the same time. It is a must when it comes to this job!

A Quick Turnaround
Sometimes, you're going to need a recording turned around really quickly. A good recorder will not only be able to oblige you in this (sometimes for a fee). A recorder that is proficient, easy to get in touch with, and on top of things should usually be able to provide you with a quick turnaround. Inquire about their history with this to get a good idea of whether they'll be able to deliver that or not.

Good Communication Skills
While their writing skills are important, you can't forget about whether a recorder has good communication and interpersonal skills as well. If you're going to be collaborating with them for what you know to be an extended amount of time, it's important to make sure that you and the recorder communicate well and are on the same page.

Engaged with the Job
The best recorder is going to be passionate about the job. You'll probably be able to get a good idea about this when you first meet with your potential recorder. Choose someone that seems enthusiastic about their job and you'll likely be happy with the results. Avoid those who seem burned out or not excited during an interview!
Consider these tips and work with an agency that offers qualified court recorders for you so you know that you're always working with a capable professional!