When you work as a court videographer, you need to have a special set of skills and training. This often begins with your training and certification.
There are many types of certifications out there and if you're interested in becoming a videographer for the courts as your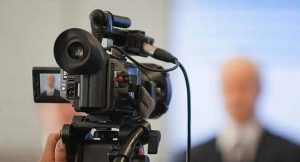 career, you may need to see what's out there.
Certification desirability may vary by state or location. Depending on what county, state or local area you are in, the license and certification requirement may be different from place to place.
A popular one comes from the American Guild of Videographers and is the 'Certified Deposition Video Specialist' certification, but check and see what the requirements are when it comes to the court system you will be working with– it's good to know.
This field has a few requirements, as most career fields do. While it is something that the majority of people could technically do, the fact of the matter is that your dedication level and commitment as well as some positive traits that lend themselves to success will determine how suited you are to this position.
You will likely want to check out training or licensing courses near you. Make sure that they have the proper credits or what they offer is going to work with where you may be employed in the future or that it is a popular and reliable license.
Things you will be trained in include the basics of the field, videography skills, the ability to follow procedure, how to protect records, how to problem solve, and more. The process of certification may be one that you pay for, but is also worth the value that it provides– preparing you for working in the field.
It will also allow videographers to learn how to record audio and video and pick up on body language or nonverbal cues. Video recordings offer the ability to influence a case, and jurors as well as others making decisions in the system review evidence regarding the cases frequently. Video over text transcripts or presentations can often capture and relay testimony that can help the jurors come to their ultimate decision.
When you specialize and work in this field, you will become a part of the process of court testimony. They are a crucial part of capturing the video that is presented in court. It's also a skill that can transition outside of court and be used for recording depositions, creative work, interviews, documentary, testimonials and more.