When it comes to court reporting, are you in need of the real thing? Technology has made a number of people and situations wonder whether the flesh and blood worker is always required. You can see self check out machines at libraries and grocery stores, and voice recognition systems and automated robotics are being utilized in more ways than ever before.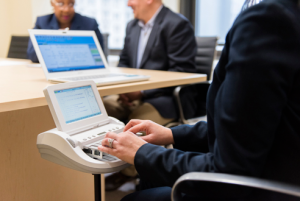 You may know that it's time to hire a realtime reporter when certain things are happening. Generally if there isn't one in the room you should, but we're getting a little more specific about that today. When it comes to the technology reporting or real reporters, which is more effective?
Overall, the human element tends to be more effective. Real people have the benefit of being able to spot errors and point out mistakes or let someone know if they're about to 'have an error', (about to be sick or something), which a machine usually doesn't do.
If software or a machine isn't working, you usually find that out when it breaks or when you review the transcription or recording and it isn't there. That doesn't happen all of the time, but the risk is always there. The benefit of this tech is that when it works well, the translation happens instantly and quickly. The software can convert sounds or shorthand into text that is readable.
Another benefit to the tech is that you can view the text wherever you want to– tablet or computer, screen, it doesn't make a difference. The benefit of a live person is that they can clarify, however, if something is too soft to be recorded or they're unlikely to put a word out of context because they misheard it, which a machine definitely could do.
A human stenographer is more likely to put down every word exactly as heard and as it was said. If they can't hear or did not understand, they may ask for clarification. Depositions and court rooms depend on accuracy. While tech is improving, each court or deposition room has to consider the benefits of using real time court reporting tech or individual (human) reporters for themselves.
Tech may also provide the option of remote video and streaming depending on the software which may make it easier for depositions. It may also allow easy access to case information instead of the slow approach. They can even be synced up to official transcripts from courts, allowing fast and easy navigation and reviewing of evidence, and may even allow for simple emailing for review to teams.
Whether you go with tech or human reporters, either way, the job is getting done. It all depends on what you're looking for. Software can allow for quicker and easier access and sending for review and potentially save costs if it's efficient (and doesn't break). There are benefits to each; check them out and see which is right for you.