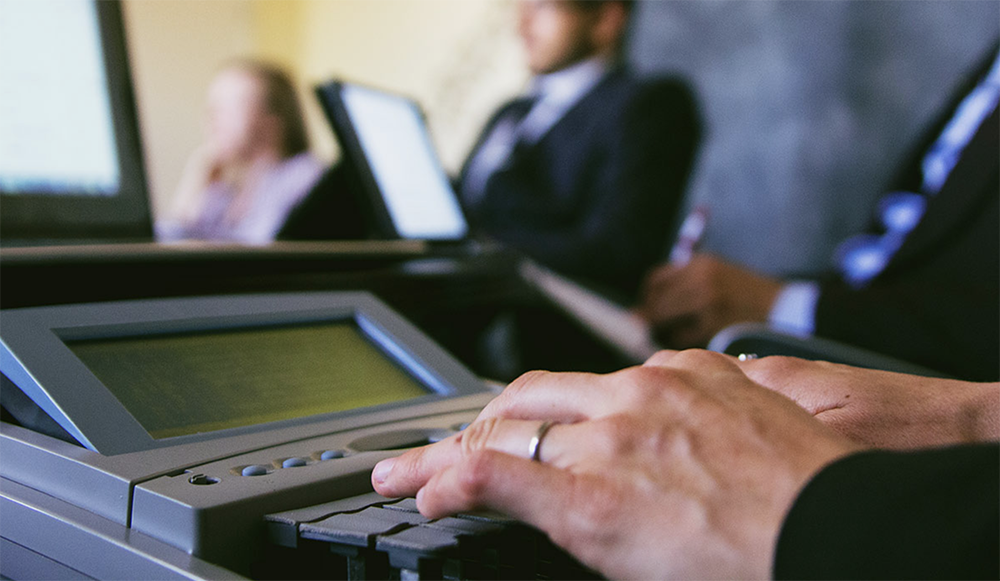 Real-time reporting has made court reporting more efficient than ever before. So what does real-time court reporting entail? It simply involves the instant conversion of stenotype shorthand into English. The resultant English version is often forwarded immediately to the attorney for use in litigation.
Real-time court reporting enables stenographers to efficiently avail a written transcription of the court proceedings, including actions and testimonies. The recorded information can be used in future proceedings. 
Real-time reporting technology has made it easier for stenographers to create accurate follow-up notes, which can be used to make clarifications concerning the court proceedings if need be. Among the merits of real-time court reporting is that the process can be undertaken without disrupting the court process. 
The stenograph software is usually fitted with an instant messaging application that can be used to accomplish numerous tasks, including communication between the stenography team members. As such, there won't be any disruptions when the court session is in progress. 
Some reporters have mastered the art of real-time court reporting over time. They can quickly take down court proceeding information accurately, and they are also conversant with various technologies used in the court. This ability coupled with the proficiency and focus-mindedness of court reporters makes them invaluable in the court system.
Real-time court reporting tech has features that make it possible for people in different countries to access it. Even if you are miles away from the court, the real-time tech makes it possible for you to follow the proceedings. 
Most court reporters usually make use of case prep materials such as case files and other technical documents pertaining to a case to familiarize themselves with sophisticated and long words. As such, they won't have any trouble typing such words during the court proceeding.   
The court prep materials are not only useful to court reporters but also to the interpreters, given that they also perform their tasks in real-time on some occasions. Interpreters can save time when they have a record of events in front of them. This means they won't have to ask questions to be repeated or clarifications as often as they would, without recordings.  
Availing prep materials to court reporters help them execute their tasks more seamlessly. With these materials at their disposal, they can prepare sufficiently for both their court proceedings and depositions. In order to properly execute their tasks, stenographers should be self-driven, detail-oriented, and accurate when creating transcriptions. As such, getting resources that can help them carry out their duties more seamlessly is very crucial. 
Real-time reporting helps reduce the amount of time taken in deposition and court hearings. It is therefore important for reporters to be furnished with the necessary materials to ensure efficient and quick execution of court proceedings. 
As you can see, real-time court reporting skills cannot be downplayed. This unique technique makes court reporting more seamless, as it is an upgrade to traditional reporting. Have a go at it, you will definitely be impressed with the results.